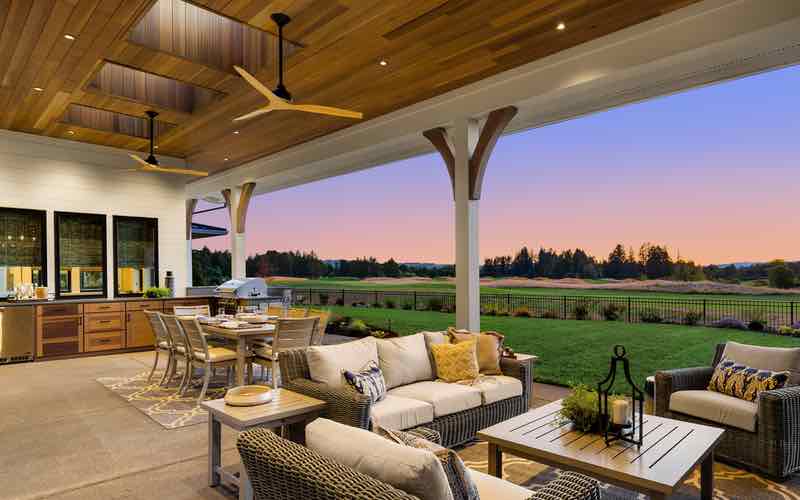 Posted on Jul 11th 2022
Everything You Need to Know About Outdoor Ceiling Fans
Outdoor ceiling fans can make a drastic positive difference in the ambiance and comfort of your outdoor living space. From cooling down a hot day to keeping the bugs at bay, the impact of adding a bit of air movement is enormous. Here's how to choose and install an outdoor ceiling fan in the most effective, least stressful way.
---
Choosing the Right Outdoor Ceiling Fan
When choosing the right outdoor ceiling fan for your space, there are a few key considerations to keep in mind. The first is the size of your space. Begin by measuring your covered patio area, then calculate your ideal fan size. Ceiling fan sizes are measured by blade sweep, which refers to the diameter of the circle the spinning fan creates. For example, if the covered section of your patio measures 145-225 square feet, the blade sweep of your ceiling fan should measure 44 inches.
Keep in mind that the size of your ceiling fan will not only impact the appearance of your patio but will also factor into how strong a downdraft it creates. If you plan to use the same covered patio space for grilling or other wind-sensitive activities, a small fan may be the best option. Also, look into how low the fan may drop and whether this will negatively impact your overhead space.
Another consideration is style. If you find a beautiful indoor ceiling fan, you may be tempted to install it outdoors, but this is a bad idea because fans come with weather ratings. For an outdoor fan, even in an area that is covered and relatively protected from the elements, you need a fan with a "damp" or "wet" rating. Choose from outdoor–rated fans to find a style that feels right for the rest of your outdoor decor and furniture.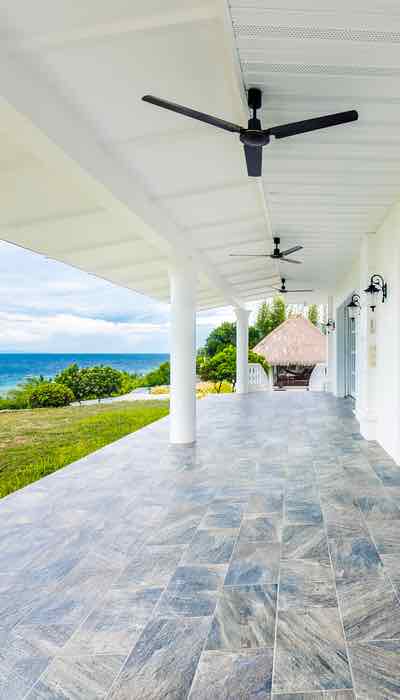 ---
How to Install an Outdoor Ceiling Fan
Installing an outdoor ceiling fan involves wiring, mounting a bracket, attaching blades and more. Other details you'll need to pay attention to include:
Checking the direction of the fan blades
Correctly tightening screws to attach the fan blades to the motor
Accurately situating the wiring
While it's possible to install an outdoor ceiling fan on your own, it's a less stressful and safer option to hire a professional team to install it instead. With teams of trustworthy, experienced electricians, Custom Electrical provides high–quality, friendly service. Instead of risking dangerous electrical issues and taking on the risky task of wiring on your own, bringing in the experts at Custom Electrical leaves you with electrical solutions you can trust.
Ready to cool down on the patio on sunny days and enjoy relaxing evenings without a swarm of mosquitoes? Custom Electrical is ready to help you with the installation of your beautiful new outdoor ceiling fan! Schedule an appointment today.
We make sure you get the most for your money.
Read what our customers have to say and then give us a call!