Or Request to Schedule Below
Submit your information below, and we will call to schedule your free in-home estimate!
Electrical Troubleshooting Steps for Utah Residents
When your home or business is experiencing an electrical problem, your first instinct is to try and solve the problem yourself. We understand that instinct, and for minor electrical issues with simple fixes, it's nice to be able to avoid unnecessary service calls. That's why we've rounded up some Utah electrical troubleshooting steps that could potentially solve the issues.
You can do many things as a home or business owner to solve small electrical problems. Still, electrical problems can also be hazardous. If you ever smell something burning or discover outlets or light switches are warm to the touch, contact Custom Electrical Services right away to make an appointment.
Determine the Extent of the Problem
When you're sitting in your home or business, and the lights suddenly go out, the first step is to figure out how big the outage is. It could be something as simple as a burnt-out lightbulb. Check to see if other rooms still have power. If the outage seems to be contained to one room, it may result from an overloaded circuit, a short circuit, or loose wiring.
If the entirety of your home or business is experiencing a power outage, check with your neighbors to see if they have power. If they don't, call your power company to report the outage. If your neighbors do have power, move on to check your circuit breaker.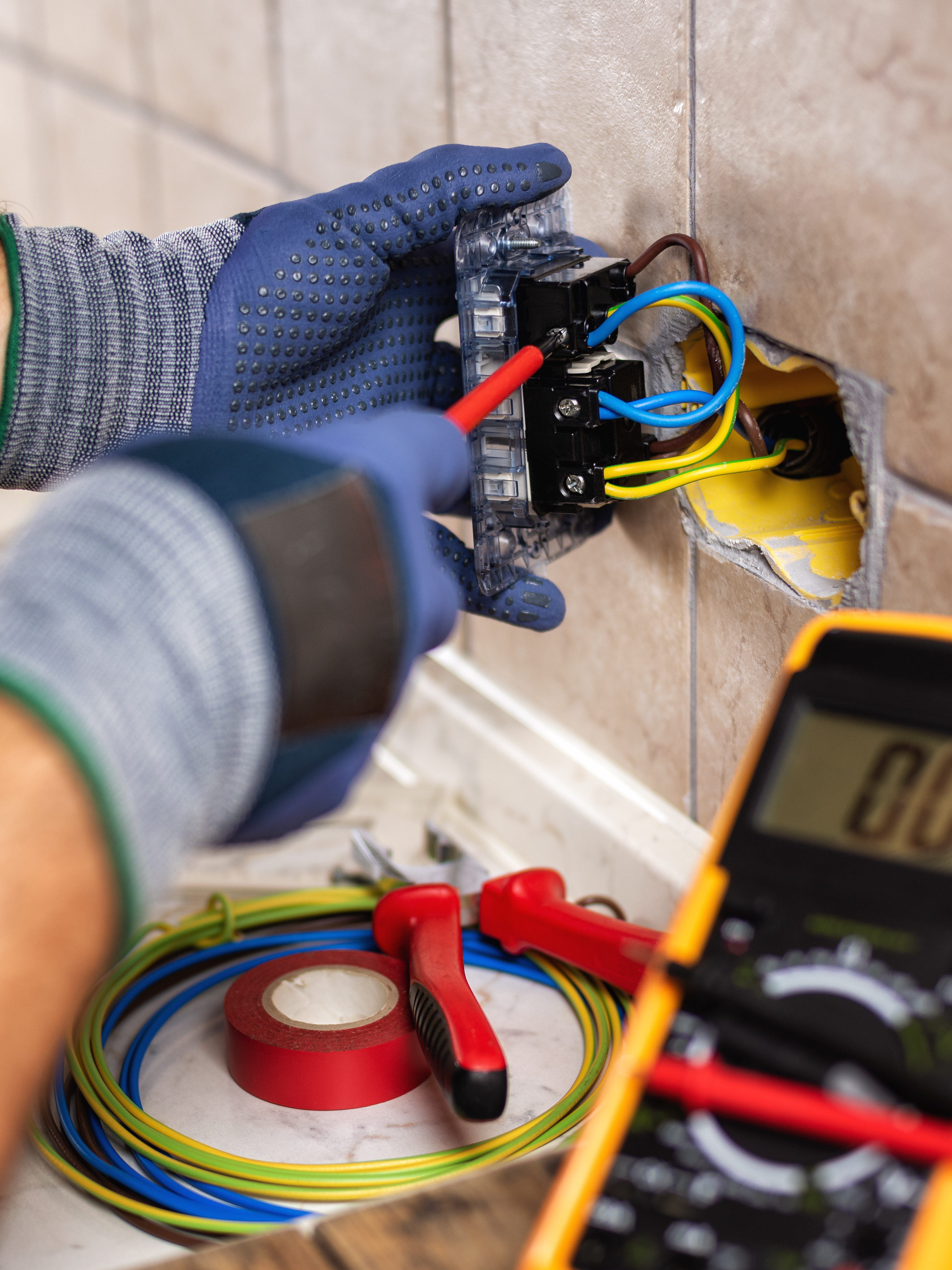 Don't overlook the importance of proper and safe residential wiring in your remodel. Electricity is in every room in your home — even the pantry and closets! Each of these rooms has the possibility of a defective wiring problem that could cause a dangerous situation for you and your family.
Custom's Electrical's nearby residential wiring services mean fewer defects have a chance of slipping through the cracks.
Request Your Own


FREE Evaluation


from Custom Electrical!
Top Residential Electricians in Utah
Custom Electrical has been serving Utah residents and businesses with residential electrical services for over 26 years! We have a trusted team of fully licensed and insured electrical technicians skilled in new home construction, residential remodels and electrical service calls; including electrical troubleshooting and additional electrical system installations.
---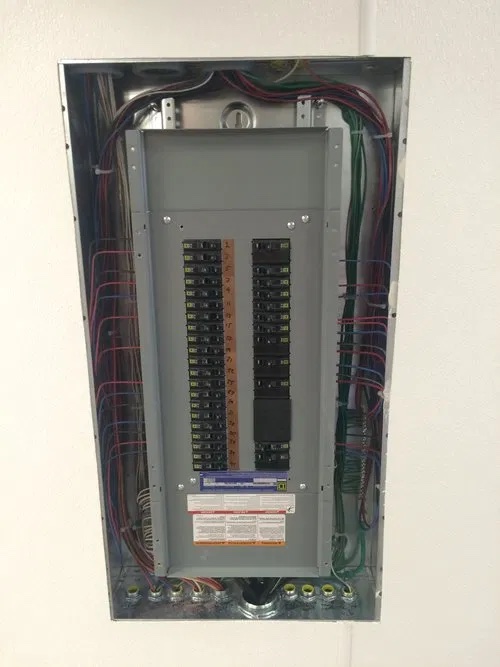 Check the Main Electrical Panel
As a safety measure, electrical panels such as circuit breakers and fuse boxes automatically shut down, "trip," or "blow" if there is an electrical current overload. If you have an electrical panel with circuit breakers, check to see if one of the switches has flipped off. Note that these switches don't always make it all the way to the "off" position and instead might be between off and on.
The circuit breaker might have been tripped because too many appliances were plugged in on the current, so before resetting the circuit, unplug everything. Then, turn the switch all the way to the off position before turning it back on.
If you have a fuse box, replace the fuse that has been blown. If the circuit stays on, try turning on lights or plugging things back in one at a time to check it's working. If the circuit or fuse blows immediately after being reset or replaced, make an appointment with Custom Electrical Services . This problem may be caused by a charred wire or defective part and must be replaced by a professional.
Test Outlets and Switches
---
If you think an outlet might not be working correctly, there are several electrical troubleshooting steps to take. First, check the appliances that have been plugged into it. If the appliances don't work plugged into any outlets, the problem is with the appliance. Ensure your appliances don't have any frayed cords, which could also cause the issue.
If the appliances aren't the problem, the second step is to determin what kind of outlet you're dealing with. Many electrical outlets are protected by a GFCI (Ground Fault Circuit Interrupter) outlet, which will "trip" if it is overloaded. GFCI outlets are easily identified by their "TEST" and "RESET" buttons. If a GFCI outlet lacks power, press the "TEST" button and then the "RESET" button to restore power.
For switches or outlets that continue to lack power even after following these steps, the third step you can take is replacing the receptacle. Ensure power to the switch or outlet is turned off before unplugging and plugging any wires. If none of these DIY fixes solve the problem, there may be faulty wiring behind the outlet. Do not try to force an outlet to work, as this can create a dangerous situation. Contact an electrician to come and fix the problem.
Evaluate Electrical Loads
---
If you have one room or area in your home or business that seems particularly susceptible to electrical problems, look at how many appliances are plugged into outlets. You may be overloading the circuit.
One of the ways to know you have a problem with overloaded circuits is if overhead lights dim any time you turn on another appliance. You can try to solve the problem by only running one appliance at a time or moving appliances to a different outlet. However, it's not a great long-term solution.
We use more electricity today than in the past. If your home's wiring hasn't been updated in decades, you may have more frequent electrical circuit interruptions. Schedule an appointment to update your wiring.
Hire a Professional
If you've followed these electrical troubleshooting steps and you're still experiencing electrical issues, contact Custome Electric to make an appointment. We are a licensed and bonded electrical contracting company in Ephraim, Utah. We offer residential, commercial, and industrial electrical services. We always strive to provide top-quality service at the best prices to those in our community.
Our superior technology provides efficient electrical solutions to residential and commercial clients. Our local electricians have extensive experience installing new electrical systems and expanding outdated wiring. You can always count on us to find the right solution for any need.
Custom Electrical Services requires our electricians to regularly complete continuing education courses and be licensed, certified, and insured. No high-pressure sales techniques are ever used to promote unnecessary products and services to our customers. Our team will make you feel comfortable while providing incredible service and quality customer care. Schedule an appointment or an estimate today.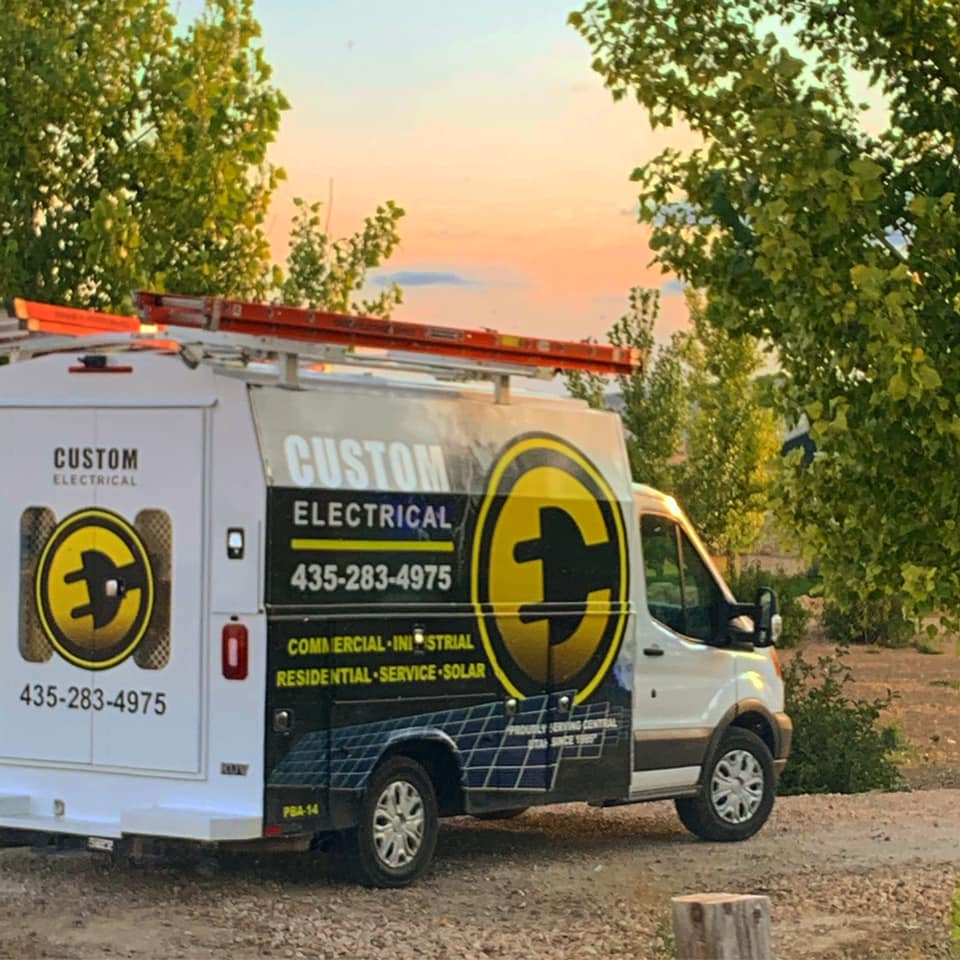 We make sure you get the most for your money.
Read what our customers have to say and then give us a call!